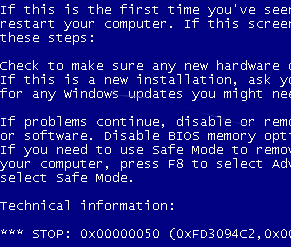 Seems XP SP3 is killing AMD machines with the error: STOP:
0x0000007e. and causes endless reboots.
STOP: 0x000000A5
affects AMD processors and can be fixed by plugging in a USB device? There's also a endless reboot stop error that breaks Vista thanks to SP1.
http://www.crn.com/software/207601657
XP MCE 2005, installing SP3 didn't cause endless reboots, but it did cause my green volume bar to stop showing up when I change volume (much like a TV volume bar). I miss it. Uninstalling to maybe get it back.